USE CODE "SPRINGBOARD" AT CHECKOUT FOR 20% OFF
Marvelous Spring Brunch Board
Recipe & Photos by The Rogue Brussel Sprout
April 6, 2022 | By Team Unwaffle
To celebrate the season, we had our friend and plant-based foodie, Lee of The Rogue Brussel Sprout, design a marvelous Unwaffle board for your next Sunday breakfast.

You're guaranteed to spice up your dip game with this decadent raspberry cinnamon chia jam and almond butter caramel. They are so delicious and so simple to make at home.
Raspberry Cinnamon Chia Jam

1 c fresh or frozen raspberries

1 tbsp chia seeds

Generous few pinches of cinnamon


Almond Butter Caramel

¼ c natural, drippy almond butter

2 tbsp maple syrup

¼ tsp vanilla


Waffle Brunch Board


1 Package Unwaffle mix

Plant milk of choice

Oil of choice or vegan butter

Maple syrup

Assorted fresh fruit of choice

Dark chocolate squares

Banana chips

Coconut flakes
Raspberry Cinnamon Chia Jam
Combine all of the ingredients in a small saucepan. Heat it to a simmer, mashing the fruit gently with a fork. Simmer for several minutes, then turn off the heat and let it sit for at least ten minutes. The jam will thicken naturally as it cools thanks to the chia seeds.
Almond Butter Caramel
Combine the ingredients in a small mixing bowl and mix well. Add another dash of maple syrup if you have trouble achieving a smooth consistency.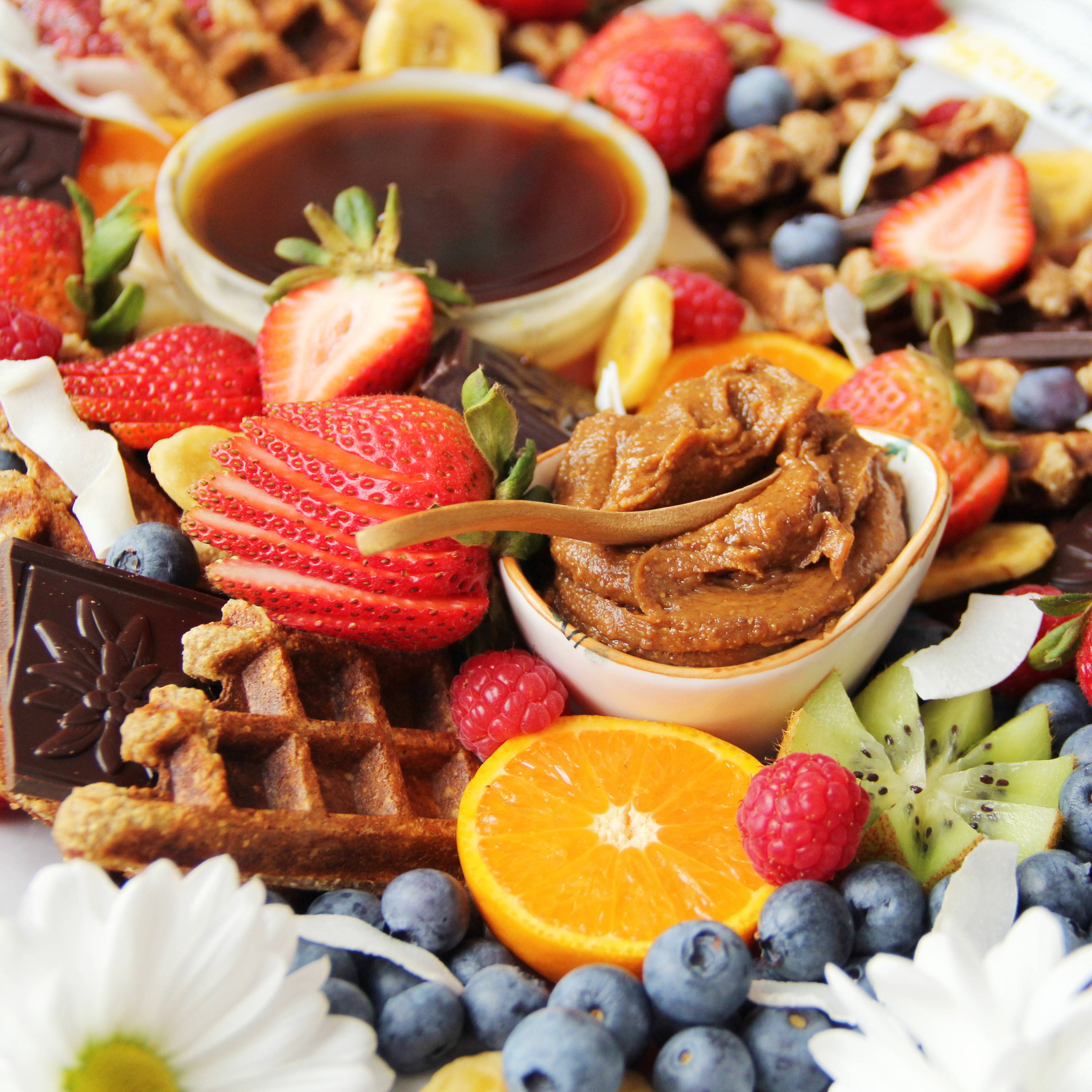 Waffle Board
Make the Unwaffles as directed, using your plant milk and oil of choice. As the waffles finish cooking, set them on a wire cooling rack to keep them crisp.

To assemble the board, start by putting the Raspberry Cinnamon Chia Jam, Almond Butter Caramel, and maple syrup in small dishes. Arrange the three dishes on a large serving platter.

Next, cut each waffle into quarters for easy eating. Arrange the waffles in swooping curves, weaving them throughout the dishes of toppings.

Prepare the larger items of fruit (bananas, kiwis, tangerines, etc.) by peeling and slicing them as needed. Arrange them within the empty spaces between the waffle pieces.

Finish the board by scattering the smaller items (berries, banana chips, coconut flakes) across the surface of the waffles and wherever there is additional space. Serve immediately.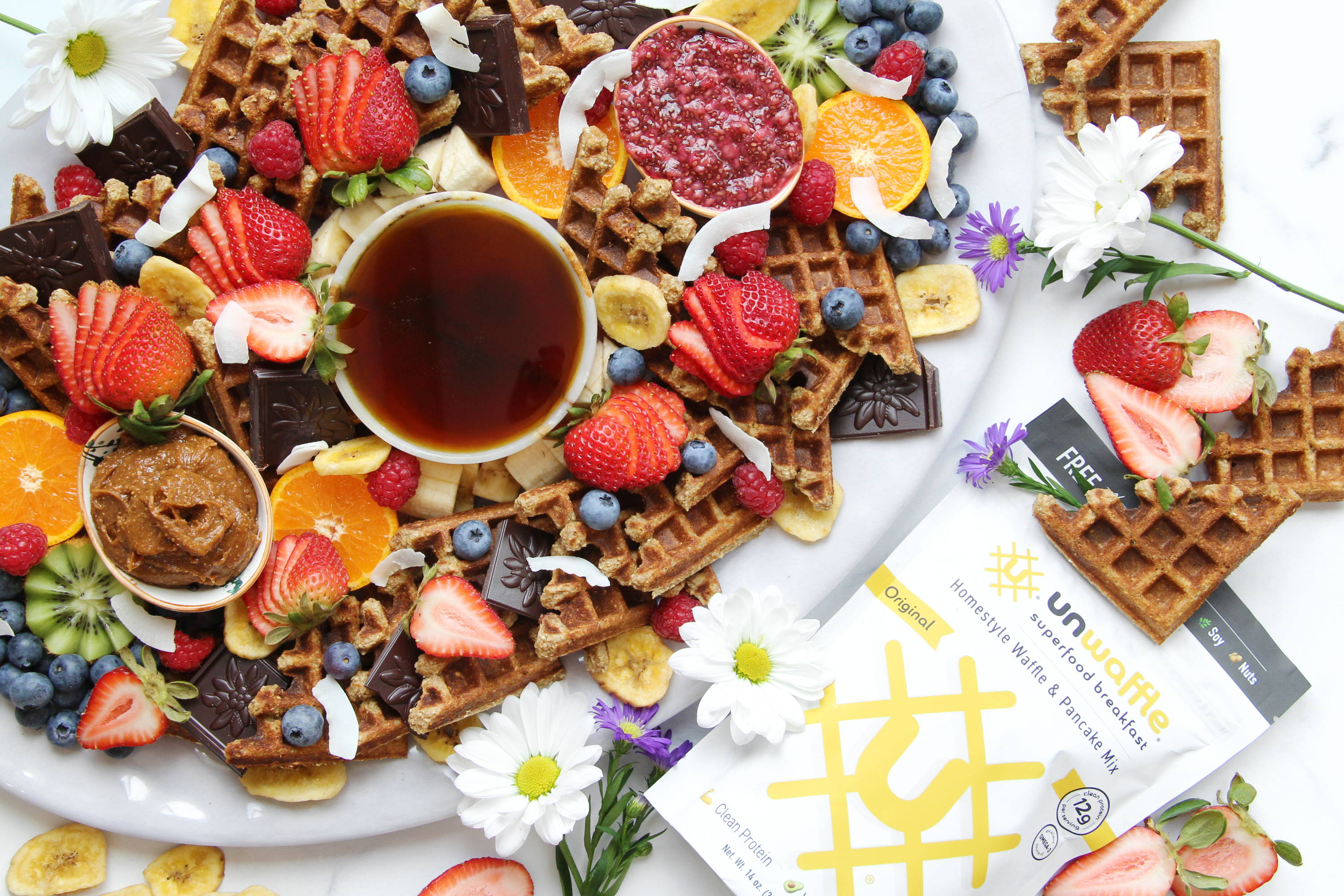 This recipe is very easy to customize based on your preferences, dietary restrictions, and how many people you're serving. As written, it's vegan (as long as you choose vegan chocolate) and gluten free. To make a nut-free version, just use tahini or sunflower seed butter in place of the almond butter. To make it lower in sugar, replace the dish of maple syrup with a dish of your favorite yogurt. Choose whatever fruits you love most or whatever is in season.
This recipe was developed and photographed by Lee of @TheRogueBrusselSprout. She loves to cook with colorful, fresh fruits and veggies and to celebrate the beauty of plants. You can find Lee's blog at TheRogueBrusselSprout.com.